Creating a Digital Brand
Oliveu is an upcoming dating application focused on love-seekers who want a more honest and authentic dating experience. As a start-up their first need was a brand and digital identity that expressed their core values and resonated with their audience.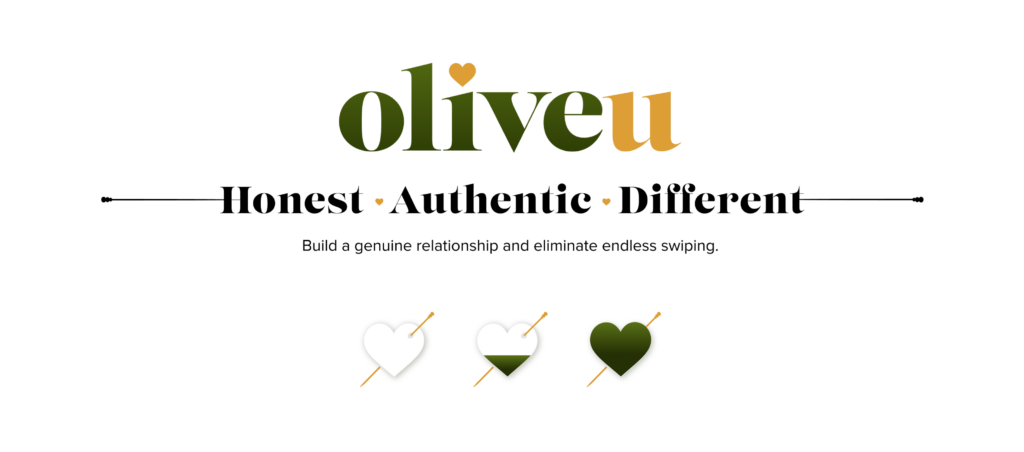 Setting up a foundation for success
We conducted a competitive brand analysis to understand the visual aesthetics and point of view for each competitor. Armed with this information we ran a number of workshops to establish the brand identity and its visual expression.
Defining an accessible color palette
The primary brand colors are bold, evocative, and aligned with the brand's mission and values. A secondary palette was defined that ensured interactive elements and content were accessible and pleasing for all users. The mobile app, emails, digital advertising, and social media were strong considerations in establishing the suite of colors.

Designing the interaction framework
To facilitate an informal usability test with the founder's friends and family, we designed a set of screens that followed a short scenario. Feedback was used to refine and iterate app navigation, styles, and layouts. The screens were used as guides by the startup to define the remaining experience.
Creating framework for the future
We established the app design colors, fonts, icons, and interactive elements into scalable design system. The components were used in the interactive prototype and allowed the startup to design screens beyond what we provided.

Results
"I was most impressed with their creative and transparent approach. They helped bring my ideas to life — and even refined those."
founder, Oliveu
scalable framework
Established